Fortunately the lovely Susanne Geis did a wonderful test drive of the Rohrer & Klingner SketchINK and Documentus in terms of Sketching. Thank you again Susanne for the lovely write up and the sketch. Hopefully we will have some more of those lovely posts of yours.
---
Side by side comparison of the dokumentus (light blue and brown) and sketch (grey) inks by Rohrer & Klingner.
All flow well when sketching/writing. They don't bleed or smudge once dry; I allowed the scribbles on the bottom of the page max 30 secs drying time and used a lot of water over the top to the point where the paper started pilling.

No smudging or bleeding when using paint, either.
I bought dokumentus blue and brown in order to mix my own grey before the sketch ink was introduced; that unfortunately didn't work.
So overall I'd happily use either for sketching; from a $ point of view, and for the choice of colours, I'd pick the sketch ink.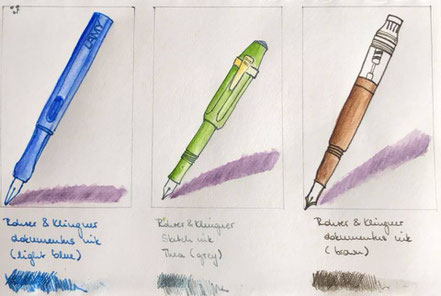 Vergleich der dokumentus (hellblau und braun) und sketch (grau) Tinten von Rohrer & Klingner.
Alle fließen gleichmäßig beim Zeichnen/Schreiben.
Die Tinten federn und verlaufen nicht sobald die Tinte trocken ist; die Kritzeleien am unteren Bildrand hatten max 30 Sekunden zum Trocknen und ich habe viel Wasser benutzt. Auch als ich Aquarellfarben hinzugefügt habe sind die Tinten nicht verlaufen. Ich habe dokumentus blau und braun gekauft um mein eigenes grau zu mischen bevor die sketch Tinten auf den Markt gekommen sind; dies hat leider nicht funktioniert.
Beide Tinten eignen sich zum Zeichnen; vom Preis-Leistungsverhältnis, und für die Auswahl an Farben, würde ich die sketch Tinte empfehlen.