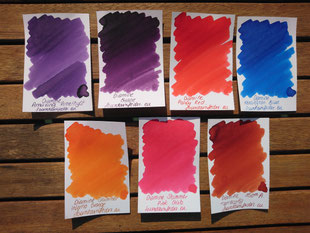 Last week was a pretty busy week. I was away for work and Alper was home taking care of the shop, Simba and his work which all together by yourself can get pretty busy at times ;-).
While I was away so many new items arrived. We got a couple of new Diamine inks and added 5 new ones to the regular line and two Shimmer ones.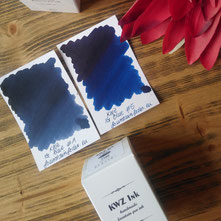 We also restocked all the KWZ inks and added two new IG ones as well. Which lets our Ink bottles and sample range grow even more. Pretty amazing how far this whole Adventure got in only a year. 
One Thing we are more than happy about is the addition of TWSBI. Wuhuuuuuuuuu. 
This is a huge Milestone for us and is so exiting. Of Course we added the new "GO" and some other models like the ECO and the new ALR. I will try to do a blog post about those pens as well. 
Anyway I wanted to take the time and thank all of you, new and exitisting customers and Friends, for supporting us during all this time. It has been amazing and I am really looking forward to our next adventures together.
During this year I made so many new Friends and I appreciate all the Input I got.  
We also have some enviers which are challenging us at times. But as Michelle Obama already said:
"When they go low, we go high"
We are looking forward to the journey ahead of us with all those lovely pens and inks and papers.